Whether you have family heirloom furniture or a special find from the local thrift shop, you want to have your furniture in the best shape possible. If your furniture has broken pieces or pieces missing, or needs alterations or refinishing, Livingston Enterprises specializes in fine furniture restoration and will repair and re-finish with better than new results. Plus they provide free estimates and pickup and delivery are available. Call 717-371-3463 today! We service Lititz, Harrisburg and all of Lancaster, York, Daulphin, Lebanon and Berks Counties. Avoid do-it-yourself projects and sloppy amateur jobs that never end up right. We'll get your project done professionally, just the way you want it.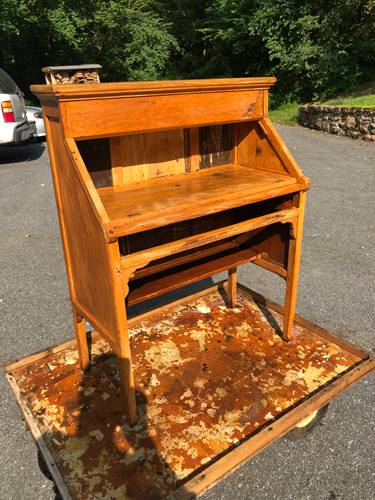 This antique writing desk was in serious disrepair and the finish was old and worn.
We rebuilt the drawers and shelving and re-finished it in a natural oak color per the customer's request.
This was the door of the Coleman Chapel on Route 501 just north of Lititz.
We stripped the doors and applied new spar varnish.
Do you have a piece of furniture that has taken years of wear and tear? Perhaps you spotted a favorite piece in a store and wish it looked just a little nicer. No problem! Livingston Enterprises offers Furniture Refinishing services and we are happy to return any piece of furniture to like-new condition! Click here to visit our Gallery page.
ENTRUST YOUR FURNITURE TO LIVINGSTON ENTERPRISES
Our team knows how to make your furniture look beautiful whether it is a table, chair, dresser or something else. Just leave it to us!

Livingston Enterprises offers furniture repair services, in the Lititz area, as a convenient alternative to costly furniture replacement for your wood furniture.

We will gladly answer all your questions regarding the process of furniture repair and furniture damage restoration in your home.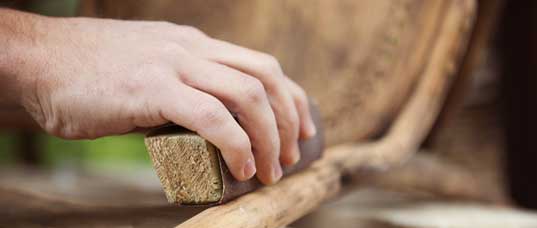 FURNITURE REFINISHING: FROM OLD TO NEW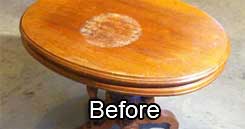 This small side table had some staining and general fade when Livingston Enterprises took over the job.
As you can see, the stain was removed and the whole table refinished with a new color – almost like brand new and ready to display!
This table came to us on its last legs in desperate need of a full restoration – we were thrilled to take the job and bring this table back to its full potential.
With a glossy finish, a sturdier frame, and an overall neater appearance, this table is ready to serve generations of people all thanks to our restoration services!